ABOUT SHEER ILLUSION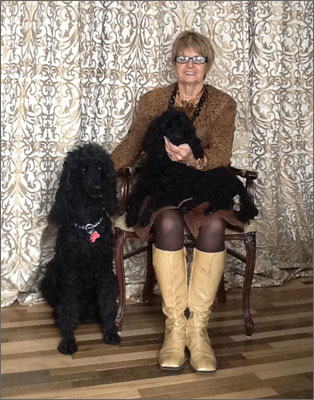 My name is Sharon Hay and I have been in the window decorating business for 23 years. At the age of 47, I found myself at a crossroads, I needed a new start. Somehow with life's blessings and the amazing people in my life, I started my first company in the blinds and drapery business.
I have been very fortunate to have the people around to help me learn and understand the business. My sister, Daryl has always been my best friend and helped get me started in this business. My Seamstress, Marion has always been my main Guru! Without these two beautiful women I would never have been able to make my business a success.
Window decorating is not only hanging cloth on windows, it is perfect measuring and knowing how and where to hang blinds and draperies. I am still learning something new every day. I used to do most of my own installing until I crippled my shoulders, so now I am fortunate to have two wonderful installers to help me, Brian and Ron.
I get such a thrill from meeting new people, my clients are so important to me and I want to do the best job possible for them. I am not happy until they are happy! Most of my clients become my new friends and that is the best part about my job. I love to search out the very best products at the very best price; that is why I have chosen to work with the companies and suppliers that I have. They stand behind their products so that I too can stand behind what I provide. Customer satisfaction is very important to me.
I moved to Cochrane to be near my children and grandchildren. My daughter Cecily lives in Cochrane with her husband and two boys, Treyton and Colton. Cecily has also entered this business as an Interior Designer. She runs her own business with her husband.
My daughter Nicole is a midwife in Rocky Mountain House and has four children; Noelle, Nate, Chaya and Cyndie. I also have a son who lives in North Dakota.
Once my children were all grown and on their own, I became a horse addict! That is my passion. I have been involved in all aspects of horse riding. I am even doing extreme cowboy riding now.
I have two dogs and they are MY BABIES!! I am seldom without them. My wonderful partner Gordon is always there for me, he is the one who has to look for me when my horse comes home alone! He is also a great installer and helps me with the business.
Call me anytime to make an appointment, I will be sure to meet with you at your convenience and will give you the best service and prices available.